Greetings from the Heart of the South!
Kappa Theta Epsilon is proud to serve the metro Atlanta community through the Jewel of the South Colony. Located in Fulton county, and serving the Cobb, DeKalb, Gwinnett, Clayton and Henry County areas, JOTS serves as the Sorority's home and hostess entity for the 2014-2016 biennium. We are also the current home of our Founder.
The JOTS Legacy
Jewel of the South has been instrumental in Sorority innovation. The 2014 biennium theme was conceived and activated here. The Atlanta colony is also responsible for the concept for the STEMS program and Dress Up! with KTE.
Service with JOTS
In addition to signature Sorority programs, the Jewel of the South Colony also participates in a variety of community service efforts sponsored by other organizations. We have given active service hours to AIDSWalk Atlanta, The Henry County Public Schools district, the Atlanta Opera, Susan G. Komen for the Cure and more. The colony also provided a financial gift to the Love Kitchen, located in Knoxville, Tennessee, during our 2014 fiscal year.
JOTS Cultural Events
A hallmark of the Jewel of the South is our continued interest in, and ongoing support of, the arts & culture in Atlanta. Some of the past events/activities attended by JOTS members are:
2013 Final Four Tournament
Atlanta Jazz Festival
Atlanta Dream home games
A Taste of Atlanta
The Peters St./Castlebury Art Walk
Upcoming JOTS Events, SY 2018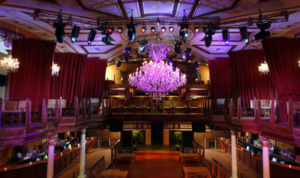 Stock Up School Supply Drive for LGBT Youth
Swans at the Opera III
KTE's Midnight Breakfast
Atlanta Black Pride 2018
Contact Jewel of the South
Submit an Interest Intro Form
About Kappa Theta Epsilon
Kappa Theta Epsilon is a social service Sorority committed to the personal and professional development of leaders in the LGBT community.
Membership in Kappa Theta Epsilon is conferred by invitation only.
Please use the Interest Introduction Form to inform us of your interest, and be considered for membership.
Create your myKAPPA account to connect with members across the country and stay informed of Sorority news and events.