PLUM Goes Red 2016
On Friday, February 5th, 2016, Kappa women nationwide wore red in support of women's heart health awareness and disease prevention. The Sorority encouraged family, friends and supporters to join us by wearing red, sharing heart health facts via social media and taking the organization's "Healthy Heart" pledge.
When asked why a professional-interest Sorority like Kappa Theta Epsilon would choose to support an effort like this, one Sorority member had this to say:
"We are a social organization that believes in impacting communities. Holistic health and wellness education is an important part of that philosophy. Heart disease is the number one killer of women, and African-American women have a disproportionate risk. Kappa Theta Epsilon Sorority, Incorporated has supported the American Heart Association and Go Red since our beginnings in 2009. Wherever there's a chance to help, we'll be there."
With that in mind, Kappa women took to social media to showcase their passion for reducing hear disease. In local communities, members shared information with family and friends, and encouraged others to take the Healthy Heart challenge.
GET THE FACTS ON HEART DISEASE
Cardiovascular diseases and stroke cause 1 in 3 deaths in women every year.
Approximately one woman every 80 seconds from cardiovascular illness.
90% of women have one or more risk factors for heart disease or stroke.
80% of heart disease and stroke events are preventable with education and lifestyle changes.
First heart attacks are more likely to be fatal in women than men.
African-American Women & Heart Disease
Cardiovascular diseases are the leading cause of death for African-American women, killing nearly 50,000 annually.
Of African-American women ages 20 and older, 49% have a cardiovascular illness. It's possible the many more go undiagnosed.
More than 40 percent of African-Americans have high blood pressure, a condition that is more severe and develops earlier in life in African-Americans than Caucasians.
Signs & Symptoms of Cardiovascular Disease
Symptoms of a Heart Attack:
Uncomfortable pressure, squeezing, fullness or pain in the center of your chest that lasts more than a few minutes, or goes away and comes back.
Pain or discomfort in one or both arms, the back, neck, jaw or stomach.
Shortness of breath, with or without chest discomfort.
Other signs such as breaking out in a cold sweat, nausea or lightheadedness.
Symptoms of a Stroke:
Sudden numbness or weakness of the face, arm or leg, especially on one side of the body
Sudden confusion, trouble speaking or understanding
Sudden trouble seeing in one or both eyes
Sudden trouble walking, dizziness, loss of balance or coordination
Sudden, severe headache with no known cause
If you experience ANY of these symptoms, don't wait. Call 9-1-1 immediately for help. It might save your life.
Solutions and the Healthy Heart Pledge
Approximately 80% of cardiovascular illness and death is preventable. With a few simple lifestyle changes, women everywhere can join the fight against these conditions and help us reduce those numbers dramatically.
Safeguard Your Health
If you're smoking, it's time to quit. Smoking significantly increases your risk for cardiovascular disease and death.
Maintain a healthy blood sugar level. Avoid spikes from processed and refined foods as much as possible.
Keep your blood pressure and  cholesterol in check through activity and regular monitoring.
Be mindful of your family history. Check with your Dr. for help making informed choices about health next steps!
Get active. Moderate exercise at least 3 times per week can significantly lower your risk.
Eat healthy, and if you're facing weight issues, work to overcome them.
Take the Kappa Theta Epsilon Healthy Heart Pledge
Women across the country joined Kappa Theta Epsilon in Going Red for Heart Health in 2016. Together, the learned the facts, raised awareness and encouraged each other to make necessary lifestyle changes.
The Sorority asked its members, their partners and friends to take a Healthy Heart Pledge. By committing to get active, eat healthier and mind their stress levels, these women have dedicated themselves to live longer, more vibrant lives. Won't you join us?
Taking the pledge is simple!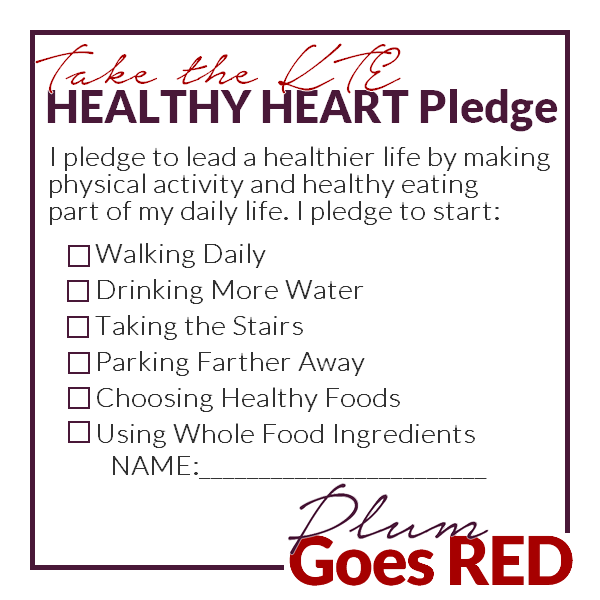 1. Commit to following the Healthy Heart steps listed on the Plum Goes Red pledge card.
2. print your card & sign your name.
3. Visit Kappa Theta Epsilon on Facebook & post that you've taken the challenge.
4. Keep us informed of your heart health progress throughout the year.
We're incredibly excited about the change in health and quality of life the pledge will provide for women across the nation. For more information on being heart smart, visit GoRedforWomen.org.